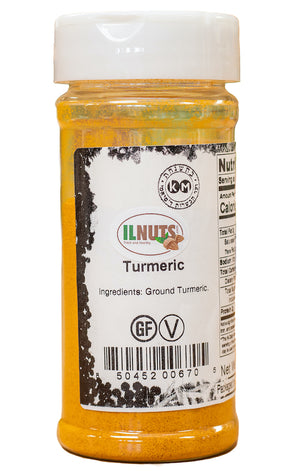 Tumeric
Sale price Price $7.50 Regular price
Healthy and Delicious Spices: One of the most versatile spices globally is tumeric, which is also known for its health properties. Our tumeric was designed using traditional recipes to offer the flavor and quality that customers want. It can be used on a variety of dishes, including curries, rice dishes, smoothies, and beans. Each of our bottles of tumeric starts out with premium raw ingredients, which are processed in small batches to offer customers the best possible spices.
Kosher-Certified for Safe Use: Our tumeric is certified by both Vaad Hakashrus of Miami-Dade and the Chicago Rabbinical Council as a commitment to demonstrate we care about both safety and quality. We are one of the only brands that have taken the steps required to offer only Kosher-certified products, which is a way to show our pride for customers who require and appreciate this kind of spices. Each of the bottles of spice is handcrafted for the best quality.
Excellent Spices with Great Ingredients: We provide many spices and all of them are created with a focus on offering the best products to our customers. We know that this is important and we put practices into play to go beyond expectations. One of the ways this is possible is through our business relationships. We work with experienced spice growers who provide us with quality ingredients that we craft into excellent spices.
Useful Design & Packaging: We don't stop thinking about our tumeric once it's been processed. It's also essential for us to provide customers with packaging that is easy to use, durable, and capable of keeping spices fresh for months. Our spice bottles were created based on those desires to offer convenience to customers. They are made of durable materials for transport and come with stable lids that keep the tumeric fresh.