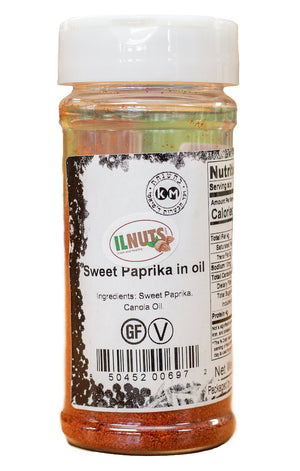 Sweet Paprika In Oil
Sale price Price $4.50 Regular price
Excellent Flavor and Aroma: Sweet paprika is a common spice used in cuisines from around the world. Unlike its hot counterpart, this paprika type is more balanced and doesn't leave as much heat in the mouth. Our sweet paprika in oil is similar to traditional sweet paprika, but it also adds additional aroma and flavor to any dish. It can be used as a spice rub for beef or lamb or as a seasoning for dishes like frittatas and quiches.
Quality Israeli Creation: Israel has long been considered an excellent location for growing and processing spices to get the best quality and premium taste. In our efforts to offer the best to our customers, we have used inspiration from traditional Israeli recipes to create our sweet paprika in oil. The raw ingredients are processed and handcrafted through a small batch technique. This lets us offer the best quality and consistency in every bottle of the spice.
Excellent Ingredients: When it comes down to creating our spice blends, the raw ingredients themselves need to be high-quality to get the best results. Knowing this, we always strive to provide our customers with the best spices on the market. One of the ways we do this is by working with experienced growers who supply us with the ingredients we use. It lets us start from scratch, knowing we are offering a premium product.
Kosher-Certified Spices: We are happy to note that we're one of only a few companies that offer a wide selection of Kosher-certified products. All of the items we offer are certified Kosher. We have certifications from Vaad Hakashrus of Miami-Dada and the Chicago Rabbinical Council, both of which show our commitment to top spice blends. Customers who choose our sweet paprika in oil can be sure they are getting a quality product.