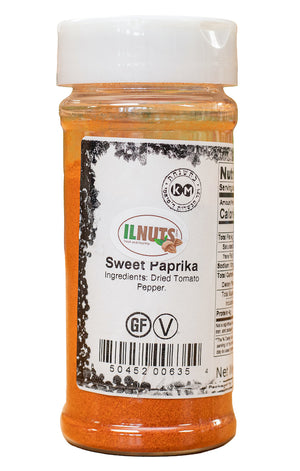 Sweet Paprika
Sale price Price $4.50 Regular price
Vibrant Color and Exceptional Flavor: Our sweet paprika, which is often simply called paprika, is an excellent option for adding a touch of flavor and a burst of vibrant color to any dish. This spice is used to garnish recipes like potato salad and deviled eggs or can be used to flavor meat before grilling. Sweet paprika has a sweet and peppery flavor without the heat of other types of paprika.
Handcrafted Excellence: One of our most important goals is to provide customers with the chance to enjoy unique, authentic flavors from their favorite spices. This is done by using traditional Israeli recipes to form the basis for our sweet paprika and other spices. As a leader in growing and processing seasonings, spices from Israel have a top-notch flavor and quality. The ingredients we use are processed in small batches, making it possible to ensure every bottle has the right taste and aroma.
Collaboration Matters: Creating recipes that customers love is part of the process of creating our spices, but it doesn't end there. We also know that having access to high-quality ingredients is another layer involved in providing the best products. We strive to offer perfect results, which is why we rely on business relationships with top growers to get ingredients that fit our needs. Accessing the best ingredients lets us create leading spices.
Reliable Packaging: Nobody wants to deal with packaging that doesn't protect their spices when they are moving from the company to a doorstep. We know that and offer durable bottles that won't experience problems during transit. Our packaging is also designed to ensure the freshness of the spices over long periods. It's easy to use through the convenient cap on the bottle. All of these things combined are what allow us to offer superior spices like sweet paprika.