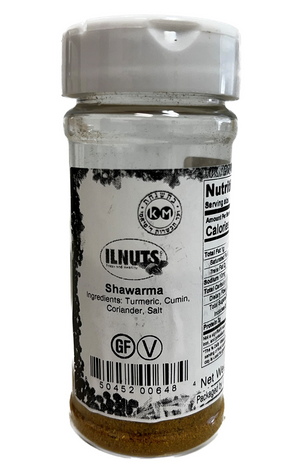 Shawarmah Spice
Sale price Price $4.50 Regular price
Exceptional Flavor and Aroma: The first shawarmah spices were created in the Middle East as a way to spice up and add additional flavor to rotisserie meats. Our spice blend relies on traditional recipes to create the perfect flavor for dishes of all kinds. The shawarmah spice has a variety of ingredients that are combined to create the desired flavor. Some of them include allspice, cinnamon, cayenne, and clove. This spice mix can be used on salads, vegetables, scrambles, and many other dishes.
Top Ingredients and Processing: Each of the ingredients that go into our shawarmah spice blend must be the absolute best. We ensure that's the case by working with top businesses of experienced growers to access the highest quality ingredients. Once we have the needed spices, we use a small batch process to create premium spices with uniform consistency and quality in every bottle. All of our spices are created to offer tantalizing flavors that customers love.
Kosher Certifications: We are one of a handful of brands that offers an entirely Kosher-certified product list. This is something we pride ourselves on since it allows us to offer a superior product that has high-quality components for any kitchen. Our certifications come from Vaad Hakashrus of Miami-Dade and the Chicago Rabbinical Council and back up our commitment to safety and quality in all of our spice blends.
Convenient Packaging and Shipping: Another factor that leads to high-quality spices is the packaging. Our bottles are designed to make it easily through the delivery process and to a customer's door. The design of the containers is also specific for keeping spices fresh in your pantry over time. For the best results, keep the spices in a dark, dry location to ensure the flavor and quality stay top-notch until the bottle is empty.