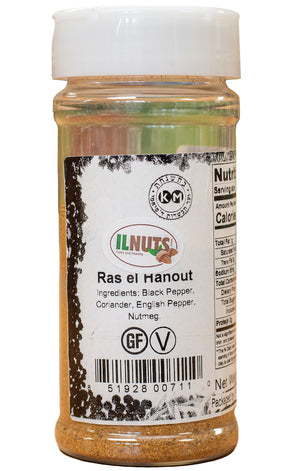 Ras El Hanut
Sale price Price $7.50 Regular price
Tons of Spices and Flavor: Our ras el hanut spice blend incorporates a variety of spices in different proportions to create the perfect addition to North African cuisine. It includes spices like peppercorns, allspice, nutmeg, coriander, paprika, and others. Our mixture is designed to offer the best quality to customers using traditional recipes as inspiration and guidance. All ingredients are processed in small batches to ensure the consistency doesn't change.
Quality Spices Made Right: The ras el hanut spice mix we offer is designed for use on a wide variety of foods. It's often incorporated into savory dishes, stirred into pasta, rice, or couscous, and rubbed on fish or meat. Our spice mix starts out with premium ingredients that are grown and farmed by experienced companies known for their outstanding quality. This is important to us since it offers the leading way to ensure our ras el hanut spice blend has the right flavor and the expected quality.
A Kosher Certified Blend: With our certifications from the Chicago Rabbinical Council and Vaad Hakashrus of Miami-Dade, we offer security and quality with all of our spices and other products. We're pleased to be one of the few brands that offer only Kosher-certified products. Our commitment to our customers drives us to provide quality spices that will be at home in anyone's kitchen. Customer peace of mind is vital to us, and this is one way we show it.
Packaging for Ultimate Freshness: Even using Kosher techniques, small batch processes, and the best ingredients aren't enough for us. We also realize that the packaging of our spices matters to many customers. Our bottles are designed to keep spices fresh in your pantry in between use. They are easy to use and made of durable materials that won't get damaged during delivery.