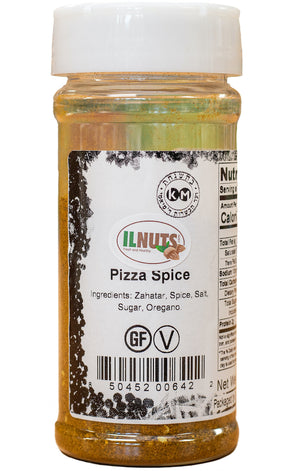 Pizza Spice
Sale price Price $4.50 Regular price
Tasty Quality Spice Blends: Also called "pizza seasoning", our pizza spice has a variety of ingredients ideal for use in several different Italian dishes. While it is labeled as a pizza spice and works well in that capacity, it can also be used in other ways. Pizza spice is a blended mix that includes ingredients like thyme, bell peppers, oregano, basil, and parsley. It's a convenient choice to spice up Italian dishes in a quick and convenient way.
Genuine Small Batch Processing: All of our spices are created to offer customers premium taste and quality. In an effort to assure that, we work to provide authentic, excellent flavors that are inspired and guided by traditional recipes. We take the raw ingredients and create our spice mix using a small batch process. By cutting down on the size of batches, we have the ability to ensure consistency and quality between bottles of the spices.
All Kosher Product Offerings: Another thing that our brand prides itself on is offering only products that are Kosher certified. Very few companies do this and we want to ensure our customers have safe products that can be trusted in their kitchens. We have certifications from the Chicago Rabbinical Council and Vaad Hakashrus of Miami-Dade. This is just one of the many ways that we show our commitment to quality spices that customers appreciate.
Packaging That Works: Our Kosher, small-batch pizza spice also comes in unique bottles designed to enhance customer convenience. Each of the bottles is made to handle traveling from one location to another so that customer spices are in good shape after delivery. The packaging we use also has design elements to keep spices fresh in your pantry for months or years. Our pizza spice has many elements incorporated to meet customer needs.