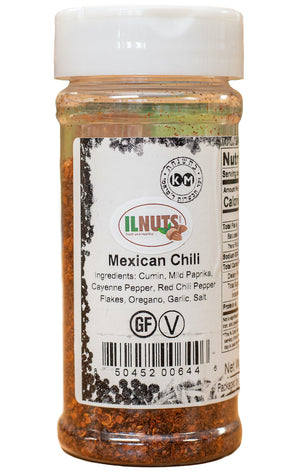 Mexican Chili
Sale price Price $4.50 Regular price
Quality with a Spicy Edge: When a dish needs a large dash of spiciness, our Mexican chili spice is there to fill the gap. It includes a variety of delicious spices that are ideal for creating the perfect chili. This spice can also be used in tacos, enchiladas, beans, or used as an ingredient in a rub or marinade for meat or vegetables. Each of the containers of Mexican chili is bottled into a durable container that ensures freshness and quality.
Genuine Handcrafted Recipe: One of the factors contributing to creating the best Mexican chili spice is using a popular recipe. Each of our spices has a basis and inspiration in traditional recipes that have been used in home kitchens for hundreds of years. This means that the spices are blended in a way that makes them perfect for Southwestern, Mexican, and Tex-Mex dishes made in home kitchens.
Quality Growers & Ingredients: Before the spices are prepared, it's also essential that they come from growers with experience. We realize that and only choose ingredients of the best quality to ensure the top results with all of our spices. We can provide this because we have many business relationships with the top growers of the ingredients that will be turned into our Mexican chili spice. The spices are placed in bottles that are simple to use while cooking.
Kosher Certified Spice Mixes: Our brand prides itself on offering a massive variety of Kosher-certified products. Every item that we sell has been certified to make it easy to fill a kitchen with Kosher ingredients. We're certified by the Chicago Rabbinical Council as well as Vaad Hakashrus of Miami-Dade, which showcases our commitment to offering the best quality and safety in all our spices and other products. All of the spice blends are handcrafted to ensure perfect taste with every purchase.