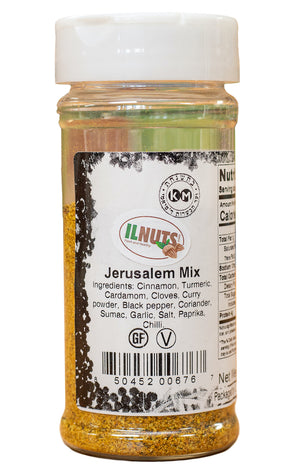 Jerusalem Mix
Sale price Price $5.00 Regular price
Traditional Israeli Recipe: Our Jerusalem mix of spices contains a variety of aromatic spices like cumin, paprika, allspice, coriander, and more. It is made using traditional Israeli recipes to ensure the best taste and quality for those who want to enjoy the flavor of Jerusalem in any location. In order to provide the best spice mix to customers, our raw spices are processed in small batches to ensure consistency. Each of the bottles has the same high quality desired for unique recipes and dishes.
Quality Growing Conditions: The ingredients used to create our Jerusalem mix are of exceptional quality to promise the best flavor. We realize that customers want to experience a particular flavor and aroma with this spice mix, so every spice is exceptionally high quality. This is provided through our relationships with the best growers of the spices across Israel, who offer us a supply of the top ingredients.
Freshness Included Bottles: In addition to having the best ingredients and combining them in traditional ways, we also realize that packaging matters. That's why we preserve all of our spices using innovative bottles that keep freshness inside when stored properly. The packaging is also designed to handle transit well so the spices make it to the customer's doors in perfect condition. This ensures the best quality and reliability for all of our handcrafted spices and other products.
Kosher Certified Spices: We're happy to be considered one of the few brands on the market that only offers products that have been Kosher certified. Our certifications are provided by the Chicago Rabbinical Council and Vaad Hakashrus of Miami-Dade, showing our commitment to safety and quality for all our customers. With our small batch processing, handcrafted spices, and top packaging, our Jerusalem mix offers the quality and taste needed for many recipes.