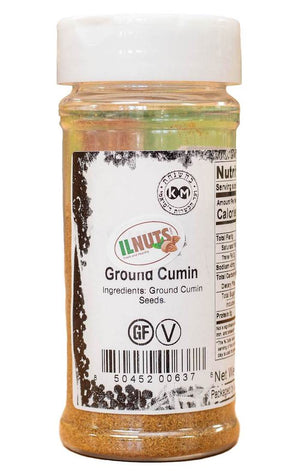 Ground Cumin
Sale price Price $5.00 Regular price
Essential Spices for Versatile Dishes: Cumin is best known for its inclusion in a variety of Indian dishes, such as chutneys and curries. It's also used in many soups, rice dishes, stews, bread, and sauces. The spice can be used in Indian, Latin American, North African, and Middle Eastern cuisine and comes in both ground or seed form. The cumin spice we offer is processed using traditional Israeli techniques to ensure the highest quality in all sorts of favorite recipes.
Created Kosher for a Safe Kitchen: We know that there are only a few companies that offer a full product list of Kosher certified items, and we are happy to present that for our customers. We have certifications from the Vaad Hakashrus of Miami-Dade and the Chicago Rabbinical Council to ensure we help create kitchens that are safe and full of delicious spices. Our commitment to safety and quality is ensured through our dual certifications.
Quality to Count On: When creating cumin for use in the kitchen, it starts with bringing in raw ingredients of the best quality. Our partnership with various experienced growers of spices in Israel helps us meet our goal of providing the best spices for cooking and baking. After receiving the ingredients, we focus on creating top-quality spices through small-batch processing. This lets us offer the best consistency and quality in every spice that reaches a customer's door.
Top Packaging for Preservation: The spices used are essential, but the packaging they are placed in is another way to ensure quality. Our innovative bottles are easy to use while also ensuring that spices stay fresh, even when using them on an infrequent basis. Through our packaging, method of small-batch production, and the use of traditional recipes, all of our spices will make an excellent addition to any kitchen pantry.