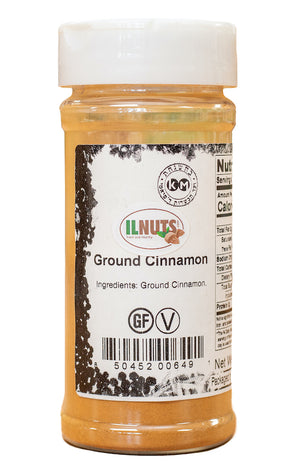 Ground Cinnamon
Sale price Price $7.50 Regular price
The Flavor and Aroma of Fall: Cinnamon is an integral ingredient known for its rich flavor when introduced to many foods and beverages. While commonly used to flavor sweet dishes, it also has a place in some savory recipes, particularly those from the Middle East. Our ground cinnamon has an intense aroma and a sweet but warm flavor that works well in baked goods and hot beverages. It can even be used to flavor certain meats.
Sturdy Packaging Design: When we finish creating our ground cinnamon, it's placed into a robust bottle designed to ensure easy transport. When it makes it to a customer's door in perfect quality, it can also be placed in a pantry for months and continue to offer the freshness that recipes deserve. The bottles are easy to use and can quickly be placed in a cool, dark space to ensure the spectacular flavor is present weeks and months from now.
Small Batch Processing: Each batch of ground cinnamon that we create starts as an exceptional ingredient harvested by top growers in Israel. These ingredients are then processed using a small-batch technique that ensures excellent quality and consistency in every bottle. We work in partnership with businesses that have grown these spices for many years to ensure our spices are perfect from start to end. All of the spices we offer are handcrafted to ensure the best results.
Safe Kosher Spices: With so few companies offering a full selection of Kosher products, we strive to offer the best of what is out there. We have certifications from the Chicago Rabbinical Council and Vaad Hakashrus of Miami-Dade to promise the safety and quality customers want in the kitchen. With handcrafted spices made in small batches, top packaging, and Kosher certifications, we offer the top quality in all of our offerings.