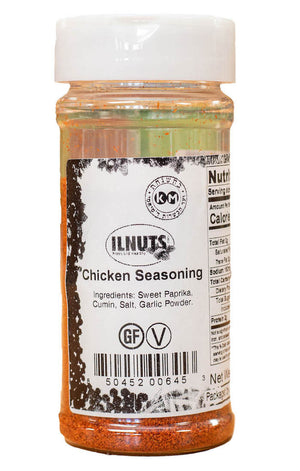 Chicken Seasoning
Sale price Price $5.00 Regular price
An Innovative Poultry Spice Blend: While there are a plethora of spice blends that can be used on poultry, only chicken spice is specifically designed to create excellent chicken dishes. This impressive spice blend is created using the fundamentals of traditional Israeli recipes to bring excellent taste to any chicken recipe. The raw ingredients are processed in small batches to ensure an exceptional level of consistency in every batch. Useful for any kitchen, our chicken spice has a blend of ingredients that tantalize the taste buds.
Quality at the Forefront: As a way to promise the best quality in our chicken spice and other products, we only use the best raw materials on the market. We focus on offering the best end product and do everything possible to make that a reality. Our relationships with quality growers of spices in Israel allow us to build off quality ingredients to create spices that many people grow to love.
Packaging Built for Quality: The spices combined with the packaging we offer help to ensure the best quality in any kitchen. Our bottles are made to offer long preservation periods for the spices customers use every day, frequently, or even only on occasion. Our spices' innovative packaging will stand up to transport and contain the spices in a cool, dark place for months or years at a time. We work to ensure that the spices will last for future use.
Kosher Certified Spices Done Right: Another point of pride for our brand is being one of the few companies that offer only Kosher certified products. To ensure safety and quality in the kitchen, we have certifications with both the Chicago Rabbinical Council and Vaad Hakashrus of Miami-Dade. When customers choose our chicken spice, they get high-quality ingredients made in small batches with a handcrafted technique.