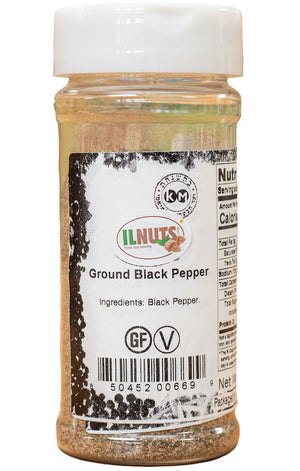 Black Pepper Ground
Sale price Price $5.00 Regular price
Excellent Flavor & Quality: When customers choose our ground black pepper, they get the quality flavor found in ground peppercorns grown by experts. Ground black pepper is an excellent addition to many recipes, including stews, casseroles, soups, marinades, and more. Our quality spices are made to offer a delicious rub for fish, meat, poultry, and vegetables. Through partnerships with the most experienced growers of spices, we can offer the highest quality ingredients.
Authentic Israeli Production: Israel has long been considered one of the top locations for growing and producing spices to offer the best flavor and quality. To provide the best to our customers, we strive to ensure our spices are unique and have a bold flavor based on traditional Israeli recipes. Each of the raw spices is produced to pay homage to its history while ensuring it has the best consistency and quality. Our ground black pepper is only one of the examples.
Easy to Use Packaging: Ingredient quality is essential, but just as crucial is storing the spices in the appropriate packaging. We ensure satisfaction by offering durable packaging that can be used over and over again. When properly stored in a cool, dark space, our ground black pepper is sure to keep its high quality and reliability for long periods. We take into consideration the durability and quality of our packaging to ensure the fulfillment of customers.
Kosher Spices for the Kitchen: Our company works to ensure we offer one of the few full product offerings that is entirely Kosher certified. We offer certifications with the Chicago Rabbinical Council and Vaad Hakashrus of Miami-Dade to prove our commitment to safety and quality for anyone using ground black pepper. With our high-quality ingredients, top of the line packaging, and small-batch techniques, everyone can enjoy the best possible spices in their recipes.