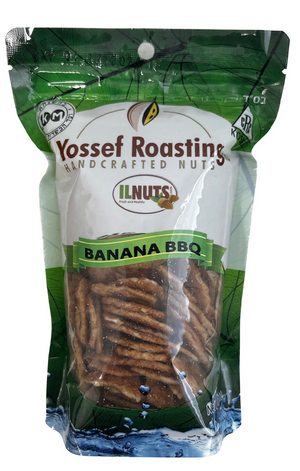 Banana BBQ
Sale price Price $6.00 Regular price
AUTHENTIC ISRAELI ROAST: For many years, Israel has been known to be a leader in growing and roasting nuts and seeds of premium quality and taste.  And in the bid to provide our customers with the best, we strive to deliver excellent, unique, and authentic flavors, all gotten from the inspirations and basis of the rich traditional recipes of Israel.  Our raw materials are roasted in small batches, with the view to achieving the highest quality and consistency. 
OUTSTANDING QUALITY: When it comes to roasting, raw materials of exceptional quality are crucial to getting the best outputs.  At Yossef Roasting, we understand this perfectly and thus strive always to get the best end-results. To achieve this, we have forged productive business relationships with experienced growers of these materials across Israel, who in turn supply us top quality ingredients. 
NEWLY DESIGNED PACKAGING: Packaging is another vital component of excellent overall satisfaction.  To ensure that the freshness of our products is preserved for as long as possible, we have created the new unique packaging bags that can be resealed after opening.  These bags are filled with nitrogen and offer the right environment to keep the integrity and quality of our handcrafted premium products.
KOSHER MIAMI AND CRC KOSHER CERTIFIED: At Yossef Roasting, we are delighted to be one of the very few brands whose entire product range is Kosher certified.  With certifications from Vaad Hakashrus of Miami-Dade (Kosher Miami) and Chicago Rabbinical Council (CRC), our commitment to quality and safety has been affirmed once again.  
Yossef Roasting | Handcrafted | Small Batch
Since 2010
Ingredients: banana, vegetable oil, sugar, salt, margarine.
Allergen notes: contains banana ingredients and p
ackaged in the same facility as peanuts, tree nuts and soy products.