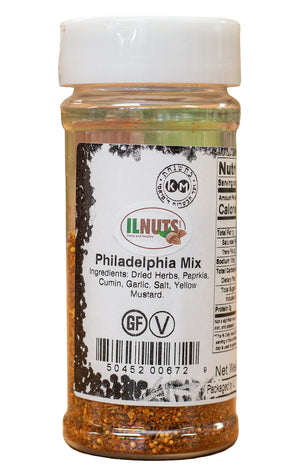 Philadelphia Mix
Sale price Price $6.75 Regular price
Quality Meat Spice Mixes: The Philadelphia mix is a blend of spices that is typically used to add flavor and aroma to a fine cut of meat. It can be used on steak, chicken, seafood, or other dishes with the spice mix creating an emphasis on the taste of the meat. In order to provide the best to our customers, our Philadelphia mix is designed to create an excellent, authentic flavor inspired by traditional recipes.
Trustworthy Packaging: In addition to offering high-quality spices, we also put a premium on the packaging we use for our Philadelphia mix. Our large bottles of spices are made to handle the transit process while being delivered. These bottles are also created to ensure that the spice mix keeps its freshness, even when it's not used regularly. The unique packaging is a vital part of what makes our spices high quality over a long period.
Excellent Growers: When processing spices to make the Philadelphia mix, we require that all ingredients be top quality to get the best results. We know that our customers expect the best, and this is the number one way to ensure that before we even start working on the spice blend. Our business relationships with many experienced growers allow us to access the best ingredients to make into our Philadelphia mix.
Dual Kosher Certification: We're happy to be one of the few brands that offer a full suite of product offerings, all of which are Kosher-certified. We are certified by Vaad Hakashrus of Miami-Dade and the Chicago Rabbinical Council to show how committed we are to providing safety and quality to our customers. Our Philadelphia mix is perfect for the kitchen in various dishes and comes handcrafted in durable packaging for convenience. The small-batch process ensures the best taste possible.