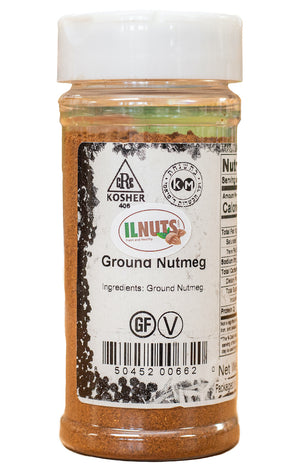 Ground Nutmeg
Sale price Price $6.50 Regular price
Exceptional Baking Spices: Nutmeg is one of the milder baking spices used in fruit pies, eggnog, pudding, and more. It can also be used in other dishes to create delicious meats, sausages, preserves, and soups. Our ground nutmeg is a well-known autumn spice that is made from an evergreen tree. We dry nutmeg seeds and then process them to create a ground spice that is packaged and perfected for a variety of holiday and all-year recipes.
Quality Ground Nutmeg: While nutmeg comes in both the whole seed and ground form, ground nutmeg has a nutty and sweet flavor. It's best known for its distinct, intense aroma and high level of spice. We create our ground nutmeg using traditional recipes passed down from history. All of the nutmeg we create is processed in small batches to offer the best consistency and quality in recipes. Our partnerships with top growers give us the advantage of offering quality ingredients for the kitchen.
Kosher Certification: We pride ourselves on being one of only a few businesses that provide a full line of Kosher-certified products. We're certified by the Chicago Rabbinical Council and Vaad Hakashrus of Miami-Dade to offer peace of mind and trust in our ground nutmeg and other spices. By working with these organizations, we believe we provide an affirmation of safety to anyone who orders our spices.
Easy Storage for Freshness: Quality ingredients, traditional recipes, and Kosher certification aren't the only things that matter with ground nutmeg. We also offer spice bottles designed to be easy to use while keeping the freshness intact for longer than expected. Even if it's infrequently used, customers can expect the best quality and taste when making eggnog, cappuccino, and baked goods around the holidays. Customers get the benefits of small-batch products, innovative packaging, and Kosher certification with every bottle.