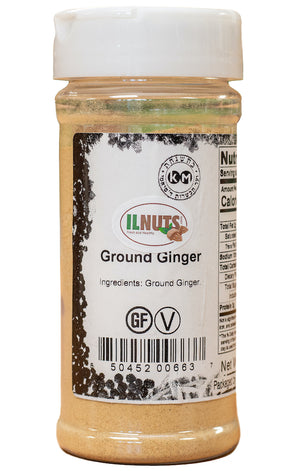 Ground Ginger
Sale price Price $4.50 Regular price
A Spice with Many Applications: Anyone who has made a pumpkin pie, gingersnap cookies, or gingerbread has likely used ground ginger in the past. Our ground ginger has a pungent taste and is designed for use in spice rubs, baked goods, and as a meat rub. We use the top techniques to dry ginger root and grind it into a fine powder for all sorts of cooking and baking needs. It has a spicy bite and sweet undertones with a lighter flavor than fresh ginger.
Traditional Flavors of High Quality: We work to create the best taste and quality in our ground ginger so that every dish or beverage truly shines. To provide the best to our customers, we use traditional recipes to create our ground ginger. Each of the raw ingredients is processed in a small batch to offer the best stability and quality, no matter when it's ordered or arrives.
Excellent Kosher Product Line: The ground ginger we offer is part of a considerable assortment of Kosher-certified products. We operate as one of the very few businesses that ensure all products are Kosher and safe for kitchen use. We have certifications from the Chicago Rabbinical Council and Vaad Hakashrus of Miami-Dade for extra assurance of safety and quality in our products. This is one of the ways we offer the quality we assure our customers of when buying our ground ginger.
Packaging to Keep Flavors Fresh: Creating the best ground ginger is only part of the process of satisfying customers. We also utilize exceptional bottles to hold our spices so that customers can be sure their ground ginger will last for a long time. Keep the spice in a dry, dark space to enjoy the high freshness levels only possible with our easy to use bottles. Every bottle is full of premium spices made with small-batch techniques for the best results.