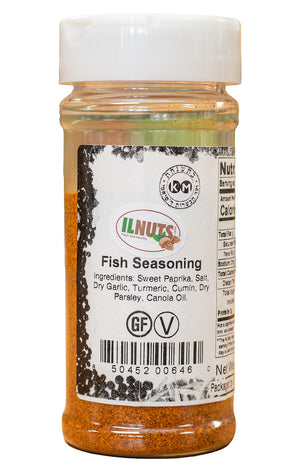 Fish Seasoning
Sale price Price $4.50 Regular price
Exquisite Spices for Seafood Dishes: Both seafood and fish are staples of many diets but can be dull if the right spice blend isn't incorporated into the mix. Whether a dish is Middle Eastern, Arabic, or African, fish spice can add an extra element that makes the palate sing. We focus on providing the best taste and quality with authentic flavors and exceptional aroma by using traditional Israeli recipes. Made in small batches, this fish spice has the top consistency to go with a great taste.
Quality and Freshness: Through our long relationships with experienced producers of the ingredients used in fish spice, we have access to the best quality components. When we process these ingredients, our focus is on offering the best output in every bottle. After processing, all spices are tested to ensure quality before being sent to a customer's door. Our fish spice will offer a flavor that customers may have never experienced in the past.
Packaging That Lasts: Providing satisfying spices also means ensuring the best packaging is used. We ensure our products stay fresh and flavorful for months and years to come through our easy to use spice bottles. Each bottle is designed to create the right environment for the best quality and long life for our premium spices. The packaging will ensure the quality of spices stays the same no matter how long it sits in any pantry.
Dual Kosher Certifications: One of the ways we set ourselves apart is by having dual certifications that every one of our products is Kosher. Since there aren't many brands that offer a fully Kosher product list, we want to ensure we offer the best products possible. Our certifications are provided by the Chicago Rabbinical Council and Vaad Hakashrus of Miami-Dade. We do this to prove our commitment to safety and quality with our fish spice and other products.