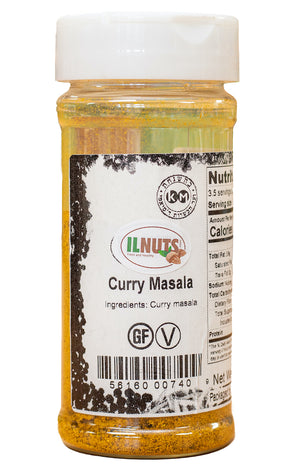 Curry Masala
Sale price Price $5.50 Regular price
Excellent Spices for Any Cuisine: Our curry masala spice is the perfect option to take a dish from bland to full of flavor. Common in Indian cuisine, this spice is used in everything from lentil dishes to curries and soups. Many spices, including cumin, peppercorn, cinnamon, and cardamon, are toasted to release their aromatic flavor before being ground down into a powder. This blend is considered a warming spice and can increase metabolism and warm the body.
Packaging Customers Can Trust: Part of offering the best Kosher spices is using the right techniques and ingredients, but it goes beyond that. We offer durable packaging that holds in our curry masala spice's freshness so that it's ready for use whenever customers need it. We pride ourselves on offering spices that stay fresh when stored in an appropriate space. Our special bottles for spices ensure the quality and reliability of our exceptional spice blends.
Spices Created from History: Israel is known for producing some of the best ingredients for spices, which is why we partner with businesses who are experienced with growing top ingredients. We take the top-quality spices and process them in small batches to ensure the taste and consistency are the same in every bottle. Our recipes for curry masala are traditional and centered in history to offer the best cooking or baking results.
Safety & Quality in One Package: When we create our unique spices, we do everything required to keep them Kosher. As a brand that offers only Kosher products, we strive to offer something different to consumers. Our certifications with Vaad Hakashrus of Miami-Dade and the Chicago Rabbinical Council show our commitment to safety and quality in all spices. Add this to our small batch processing and handcrafted quality, and customers get curry masala that rises above expectations.